From 1 July to 31 October 2019, Hotel Villa Madruzzo is pleased to offer its guests the Trento Card 2019, which grants you access to over one hundred museums, castles, natural parks and attractions, and the possibility to travel freely on all local public transport, including trains.
How to obtain the Trento Card
To obtain the Trento Card guests staying at the Hotel Villa Madruzzo by 31 October 2019 can contact the reception desk directly.
Conditions required for issuing the card:
stay of at least 2 nights – the Trento Card is totally free.
one night stay only – the Trento Card is offered at an advantageous cost of 10 euros.
To travel by public transport, please request integration with the electronic transport card. Using Open Move, you can issue directly, at no additional cost, your travel ticket for buses, trains and all transport services in the province of Trento.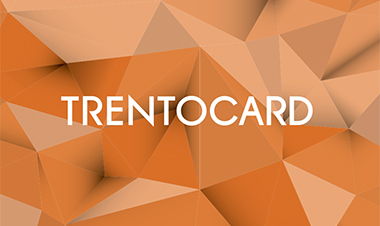 In the territory of APT Trento, Monte Bondone, Valle dei Laghi, Trento Card holders are reserved:
special discounts on participation in the summer activities program of MONTE BONDONE and VALLE DEI LAGHI, discount from 10% to 20%
special price of 4,00 euro for the participation in the guided tours on Saturday morning and Saturday afternoon organized by APT.
10% discount on purchases at CERERIA RONCA (see tab "10% discount")
How to use the Trento Card
The Trento Card can be used by presenting it at the ticket offices of museums, castles and attractions participating in the initiative to get an entry to each service, and validate it, once integrated with the transport card, on board public transport or in railway stations. Trento Card is also intended to extend the validity of the proposals to the minor family members who are on holiday with you thanks to the specific Family formula.
Trento Card is personal and non-transferable and includes:
no. 1 entry* to each service
unlimited access to the urban and suburban public transport network of "Trentino Trasporti" and regional trains on provincial routes, only if integrated with the electronic transport card (only with journeys with origin and destination in Trentino).
tastings, guided tours at the producers' stores and a 10% discount on one purchase
benefits or discounts on other services and attractions.
* 50% discount at the Muse and Castello del Buonconsiglio